The baroque spectacle
full of drama and passion
Caravaggio & Bernini
15 October 2019 to 19 January 2020
The baroque spectacle full of drama and passion
Curator Gudrun Swoboda about the special exhibition Caravaggio & Bernini
In fall 2019, a line-up of singular masterpieces is coming together in Vienna: paintings by Caravaggio, sculptures by Bernini, and other main works of early Roman Baroque will be shown at the Kunsthistorisches Museum. The Special Exhibition entitled Caravaggio & Bernini shows how stirring emotions all of a sudden came to be a subject matter for painting and sculpture. The show combines spectacular loans from all over the world with masterpieces from the holdings of the Kunsthistorisches Museum, which alone possesses three major paintings by Caravaggio.
15 OCTOBER 2019 TO 19 JANUARY 2020
Picture gallery, Kunsthistorisches Museum Wien
The Special Exhibition Caravaggio & Bernini gives a vivid impression of Rome as a center of the arts between 1600 and 1650. It was a city that attracted many talented artists, male and female. Starting with Caravaggio (1571–1610) and continued by Bernini (1598–1680), it was a place where new ideas developed that went on to reverberate throughout Europe.
Gian Lorenzo Bernini (Naples 1598 – 1680 Rome)
Medusa
Rome, 1638–40
Marble with traces of original patina, h. 46 cm
Rome, Musei Capitolini, Palazzo dei Conservatori, inv. no. S/1166
Photo: Andrea Jemolo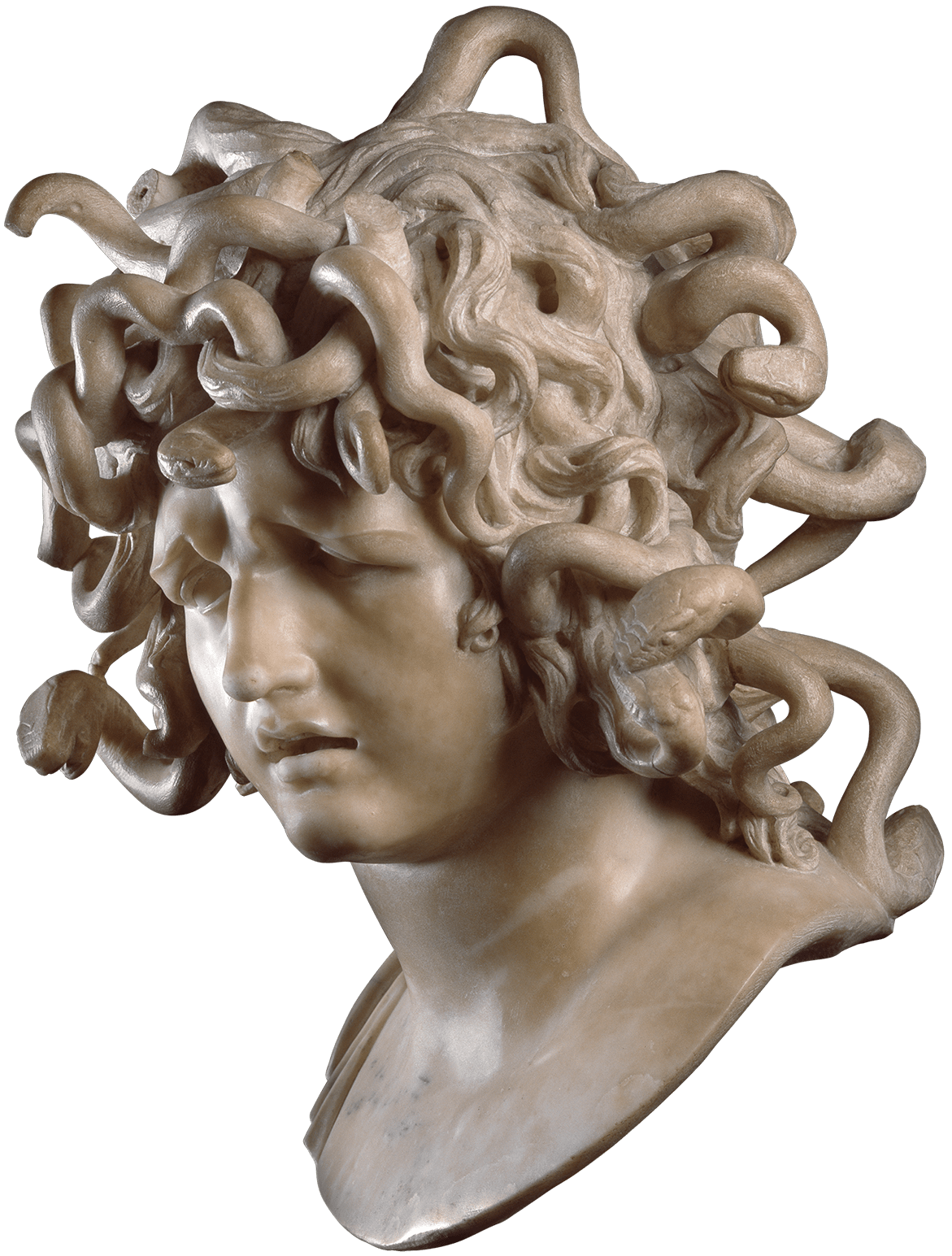 The discovery of feelings
Fear, horror, surprise, and passion: the representation of human feelings was a novelty in art. The Special Exhibition Caravaggio & Bernini sets out to explore these emotions in terms of some 70 international loans and works from the museum's own holdings.
Michelangelo Merisi da Caravaggio (Milan 1571 – 1610 Porto Ercole)
Boy Bitten by a Lizard
Rome, c. 1597/98
Oil on canvas
65.8 × 49.5 cm
Florence, Fondazione di Studi di Storia dell'Arte Roberto Longhi, 1980 N.78
Caravaggio, Bernini & Co.
Caravaggio and Bernini show a lifelike picture of the human. The movements of the body are informed by the figures' inner stirrings, their feelings. This conjunction of outer realism and inner sensation was something new. It became the defining characteristic of the Baroque. It is also the reason why the exhibition places painting and sculpture in dialogue with one another. It shows how Caravaggio and Bernini were understood by their contemporaries. The exhibition thus also affords an encounter with the art scene of the Rome of the period.
Gian Lorenzo Bernini (Naples 1598 – 1680 Rome)
St Sebastian
Rome, 1617
Marble, h. 98.8 cm
Private collection; on loan to Museo Thyssen-Bornemisza, Madrid
Photo: Museo Nacional Thyssen- Bornemisza, Madrid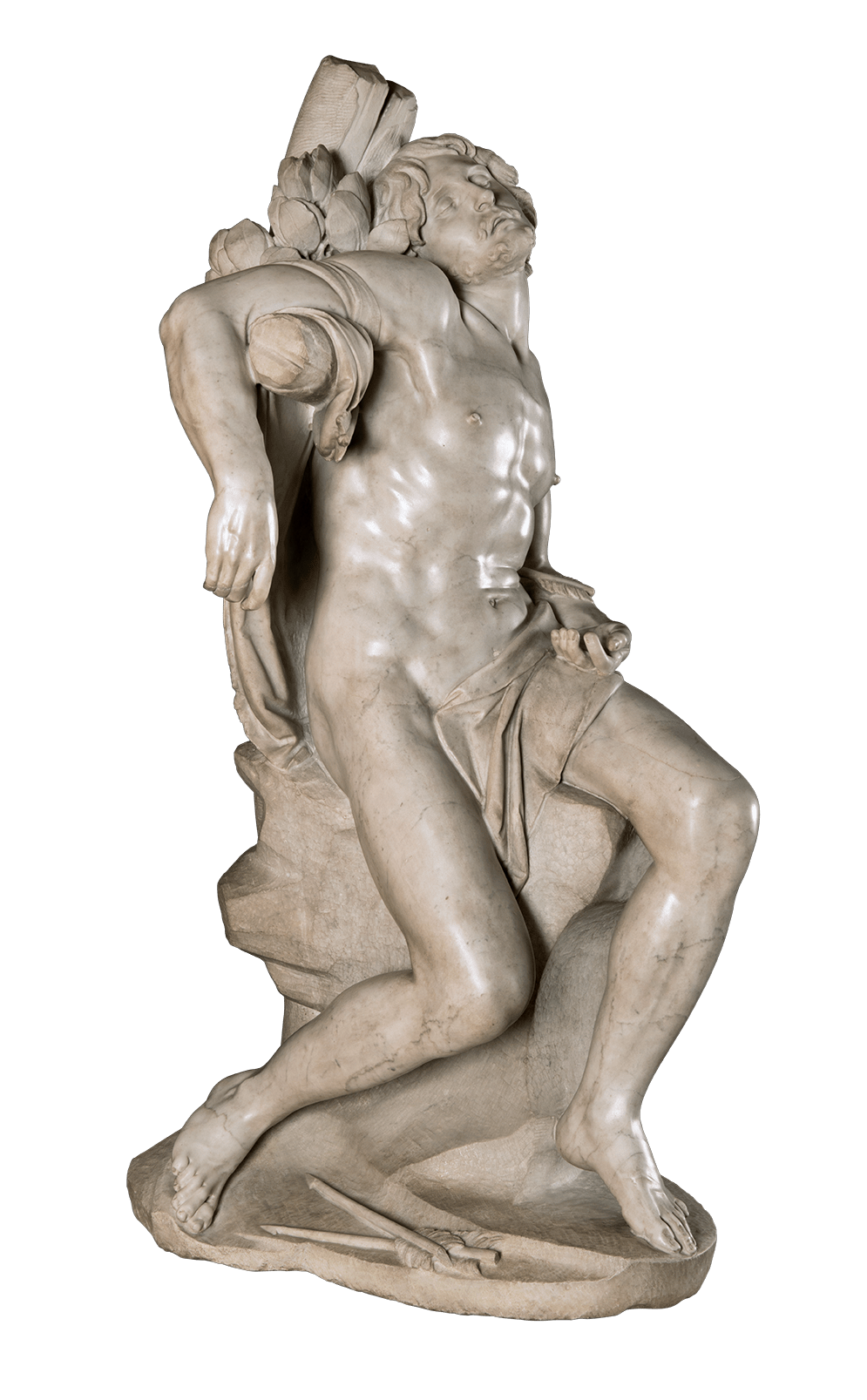 Questions & answers
about your visit to the exhibition
Due to the sensitivity of the objects, only a limited number of visitors can be allowed into the exhibition at a time. To provide opportunity for as many visitors as possible to see the Special Exhibition, to offer you a pleasant visitor experience, and to help with the advance planning of your visit we offer time slots. The time slot booked defines the time of admission to the Special Exhibition; the duration of your stay is not limited!
The time slot ticket alone does not give admission to the KHM! The Special Exhibition can only be visited in conjunction with a KMH admission ticket.
The time slot ticket gives you a time window for admission to the Special Exhibition. Once in the exhibition, you may stay as long as you wish. Visiting the museum at large, before or after, is only possible with a valid admission ticket.
You can buy the ticket beforehand through our online shop; you will be receiving your ticket digitally or as a print@home ticket. In addition, ticket desks to obtain time slot tickets by availability will be situated outside and inside the museum, and, for impulse buyers, right outside the Special Exhibition.
With your online ticket purchase, you will also book a time slot defining a time window for admission to the exhibition. You may visit the other KHM collections before or after visiting the Special Exhibition during the regular opening hours. Please note that your museum ticket is for one-time admission.
Every visitor needs a time slot ticket. If you already have an admission ticket to the Kunsthistorisches Museum, you can buy a time slot, by availability, at the ticket desk. Annual Pass holders, Friends of KHM, and ICOM Card holders get a free time slot ticket from September 2019, by availability, at the ticket desk. If you want to pre-book your time slot ticket, you can do so online (price: € 5.00).
Admission is free for children and teenagers under 19. If accompanied by an adult holding an online ticket, no separate ticket or waiting in line is needed. Children and teenagers are registered right at the entrance and can directly enter the exhibition with their accompanying adults. Without accompanying adult a time slot ticket is required; no admission for unaccompanied children and teenagers under 14.
Treat yourself to our special offer Caravaggio & Bernini at Night and enjoy the Special Exhibition outside regular museum hours. The offer includes admission, a guided tour, and a champagne reception. Tours will be held in German and English.
You will be receiving your online ticket by e-mail as a mobile ticket to be stored in your Wallet or for printing out as a print@home ticket.
The time slot defines an interval for admission to the Special Exhibition. The Special Exhibition is shown on the first floor, access is through Room IV. Please plan for enough time to check in your coats and bags and get to the 1st floor; we recommend arriving at the Kunsthistorisches Museum 30 minutes ahead of your time slot. The duration of your visit to the exhibition may be freely chosen. Please note that interrupting your visit is not possible.
If you want to visit to exhibition with a group of ten or more please book in advance and specify the size of your group and preferred time of your visit at booking.tourist@khm.at.
A time slot ticket is also required for school groups.
Tickets for guided overview tours are available online and at the museum ticket desks. Please not that there is a limited number of participants per tour.
For private guided tours please contact us at kunstvermittlung@khm.at or by phone at +43 1 525 24 - 5202 (Mon–Fri, 9 a.m.–4 p.m.).
When booking a private tour through the special exhibition, you do not have to reserve a separate time slot ticket!
Guided tour of the special exhibition Caravaggio & Bernini
When booking a private tour through the special exhibition, you do not have to reserve a separate time slot ticket!