Finelli was the first Baroque sculptor to make use of the effect of the open mouth.
Sculptures are coming to life. Figures are stepping out of the paintings. Since Antiquity, the theme of liveliness has recurred in the arts time and again.
Liveliness, Vivacità, was particularly pertinent in early seventeenth century portraiture. The models were moreover depicted in a very personal manner: their facial expressions mark them out as individuals.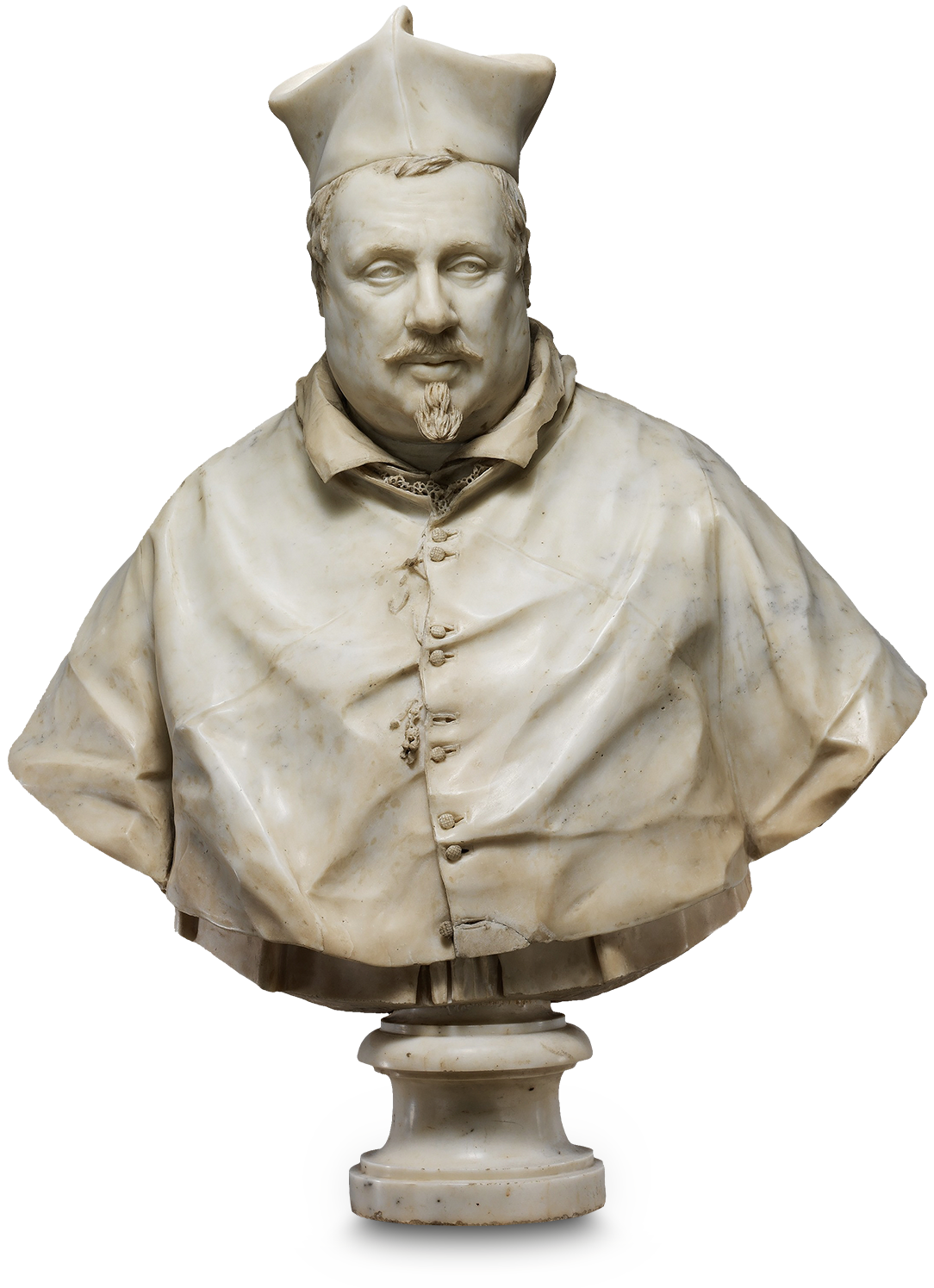 It appears as if it were possible to enter a dialogue with the figures
The sculptor Giuliano Finelli showed Cardinal Scipione Borghese with wrinkled forehead and slightly drawn mouth, as if he was about to talk. Finelli was the first Baroque sculptor to use the effect of the open mouth. This gave his portraits additional life.
The artists made use of a range of tricks. Flashing teeth indicate speech. Veins and muscles stand out with tension. Floating hair or a slightly tilted head give the impression that the figure has only just stopped moving.
1
Giuliano Finelli
(Carrara 1601–1653 Rome)
Cardinal Scipione Borghese
(1577–1633)
Rome, 1632
Carrara marble. H. 81 cm;
base: marble, H. 18,1 cm
New York, The Metropolitan Museum of Art,
Inv. no. 53.201
Did we interrupt Maffeo Barberini reading? His right hand is resting on the page of an open book. It looks as if he didn't want to lose his place.
Maffeo appears distracted. He is probably still thinking about what he has just read. It might have been a love poem, as could be indicated by the vase with flowers.
2
Michelangelo Merisi da Caravaggio
(Milan 1571–1610 Porto Ercole)
Maffeo Barberini (1568–1644)
1596/97
Canvas, 121 × 95 cm
Florence, Private collection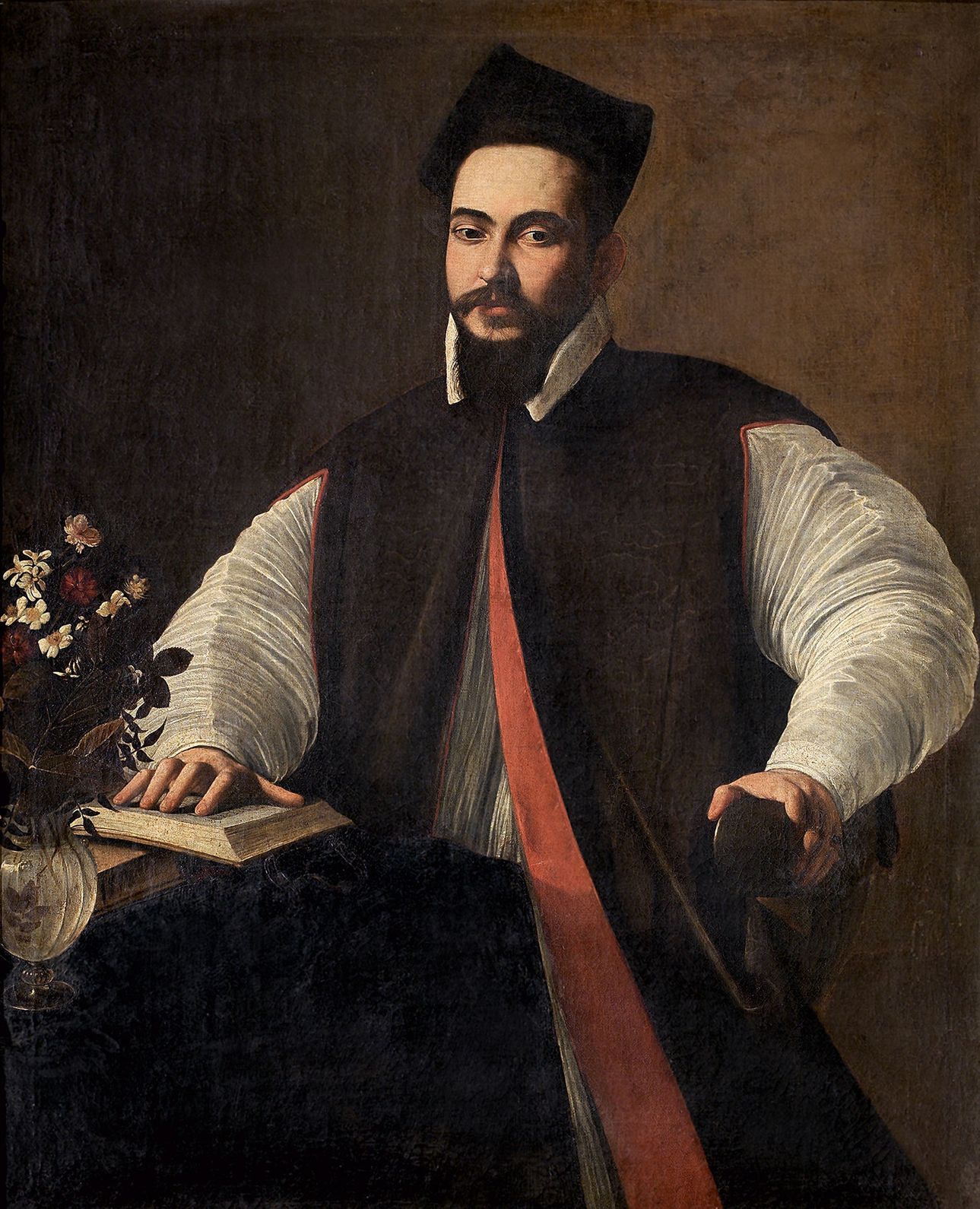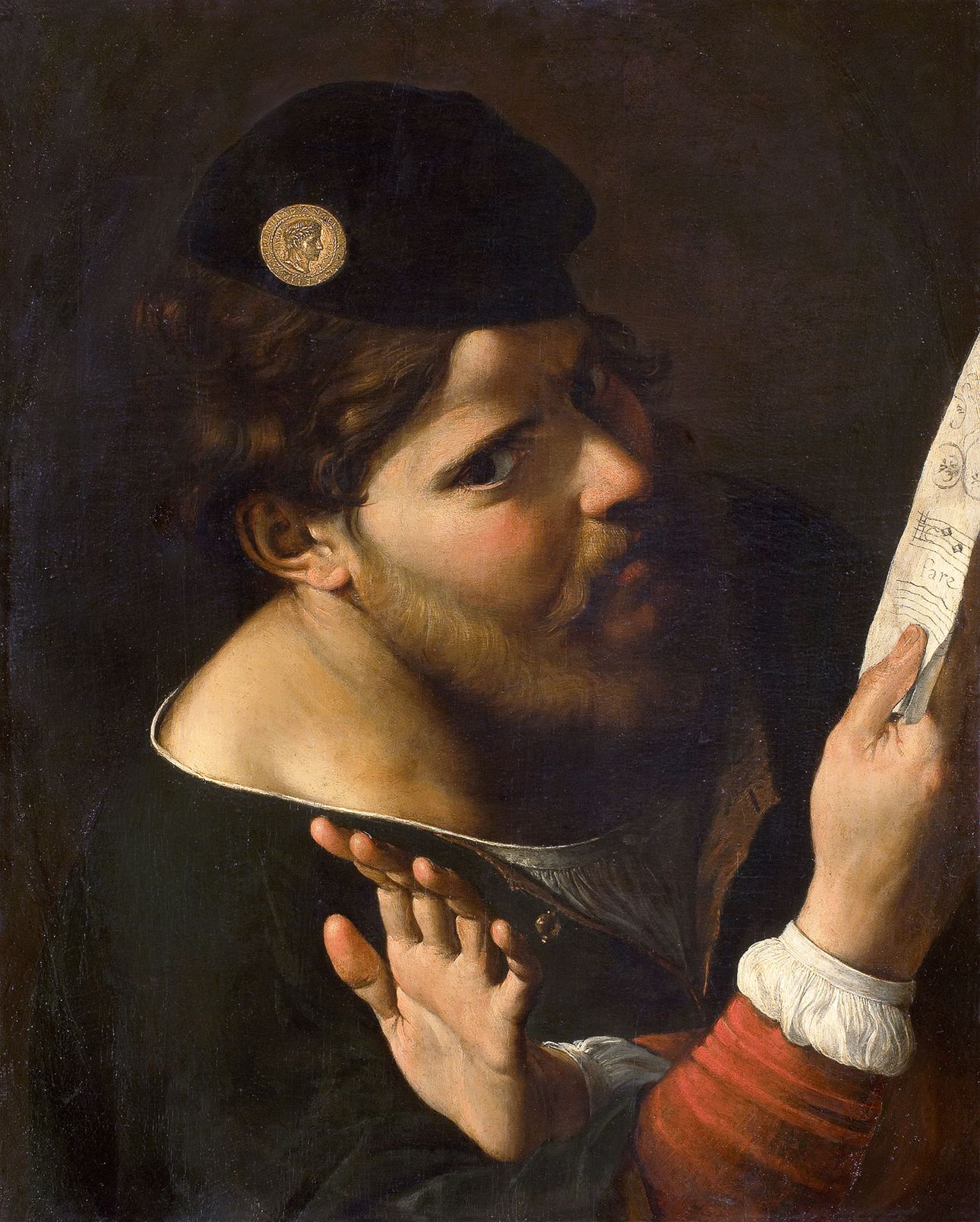 It appears as if it were possible to enter a dialogue with the figures. Tightly chosen excerpts of the picture in small formats let the boundary between image and onlooker disappear. The clever use of light adds motion to the scenes.
3
Angelo Caroselli
(Rome 1585–1652 Rome)
'Singing' Man
c. 1615/25
Fir, extended with sections of pine, 53 × 43 cm
Signed on the coin: 'ANGELO CAROSE[L]LI PILS · FERDI[NANDUS] ·BRÃ [N]D[ANUS]' and, perhaps 'LAU[REATUS]«»AUG[USTUS]' 'IMP[ERATOR]'
Vienna, Kunsthistorisches Museum,
Inv. no. 1583
Painters can use colour to depict different materials. Sculptors have to use a single material to create different surface effects.
Thomas Baker's collar is finely executed. His full hair is floating loosely around his head. Both are modelled with incredible audacity. The freedom with which Bernini handled the stone drill, leaving visible traces here and there, lends an almost painterly touch to the bust.
4
Gian Lorenzo Bernini
(Naples 1598–1680 Rome)
Thomas Baker (1606–1657/58)
Rome, 1637–1638
Carrara marble, H. 81,6 cm (incl. base)
London, Victoria and Albert Museum,
Inv. no. A.3-1921
The portraits created by Caravaggio, Bernini and their successors are particularly personal and lively; they are paintings and sculptures that recall snapshots. They still give us a sense of being able to share a moment from their time.