The saints are depicted in a moment of revelation that is exclusive to them: they are face to face with the divine.
In the early Baroque, it was generally accepted that visions could be triggered by mediation as well as the study of works of art. That is why there are so many depictions of saints in a trance of some kind.
Saint Francis is bent over the scripture and seems lost in the words he is reading. Carvaggio is using the contrast between light and dark in order to show the Scripture as a source of illumination. Francis is being illuminated by taking in the word of God.
1
Michelangelo Merisi da Caravaggio
(Milan 1571–1610 Porto Ercole)
St Francis in Meditation
c. 1605/06
Canvas, 130 × 90 cm
Cremona, Museo Civico Ala Ponzone,
Inv. no. 234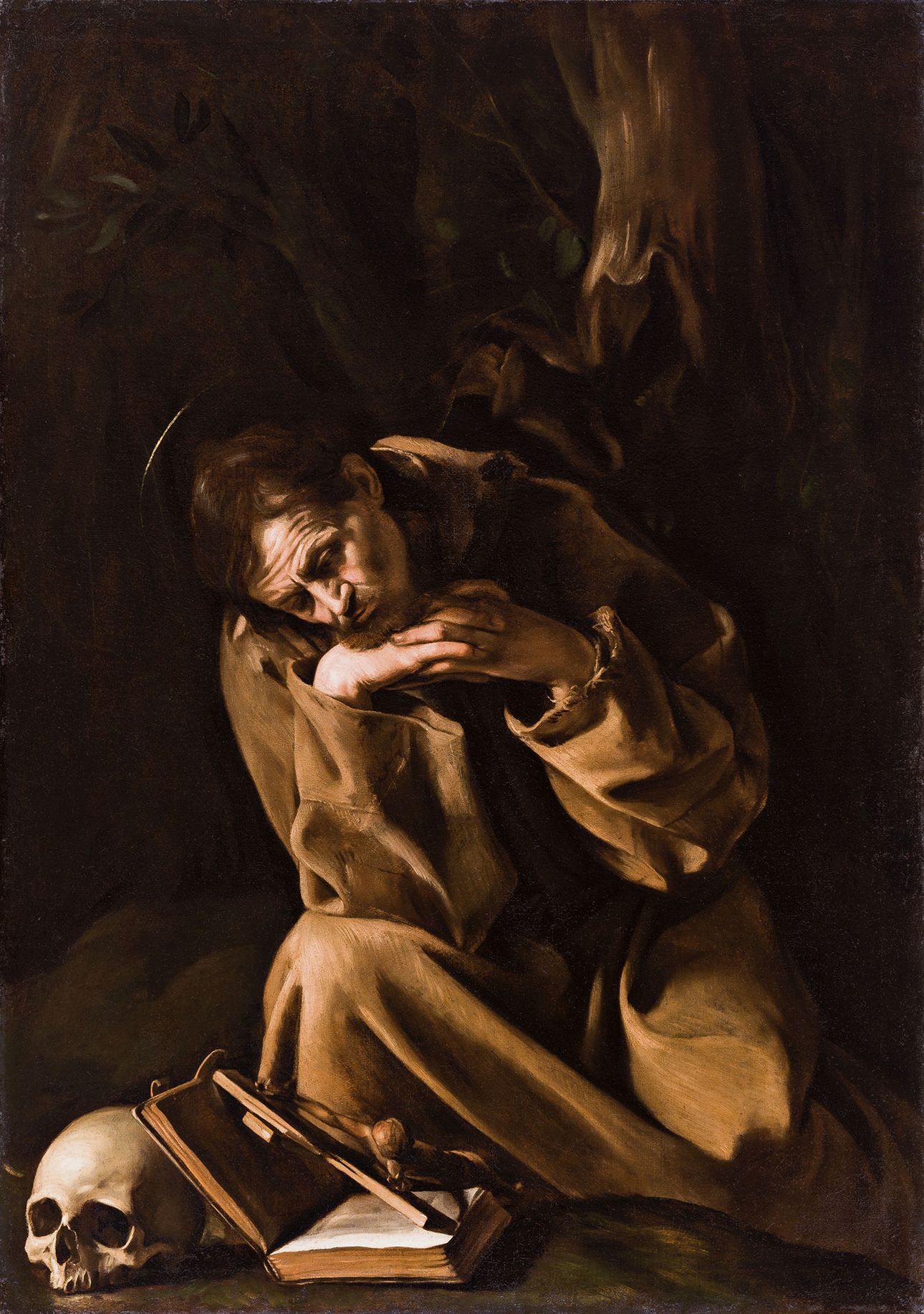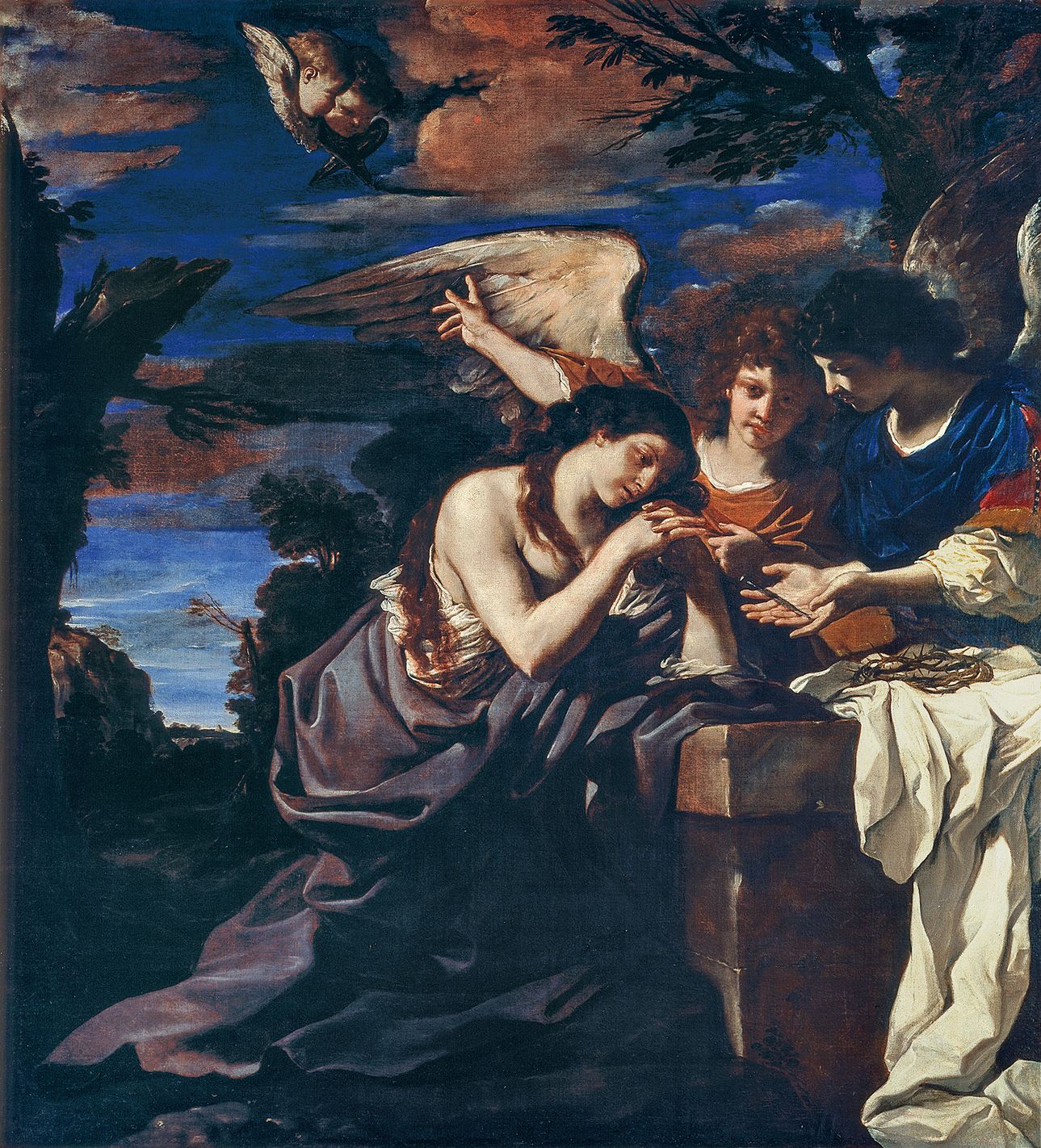 Mary Magdalen is depicted here by Guercino in mediation of the Passion by the side of the empty grave of Christ. With her are two divine creatures, the angels.
2
Giovanni Francesco Barbieri,
genannt Guercino
(Cento 1591–1666 Bologna)
Mary Magdalen with Two Angels
1622
Canvas, 222 × 200 cm
Città del Vaticano
Musei Vaticani, inv. no. 391
Artemisia Gentileschi is bringing us into such close contact with Mary Magdalen that we must fear disrupting her in this private moment. Her cheeks are flushed red with the adoration she is feeling inside.
3
Artemisia Gentileschi
(Rome 1593 – c. 1654 Naples)
Mary Magdalen in Ecstasy
1620/25
Canvas, 81 × 105 cm
Private collection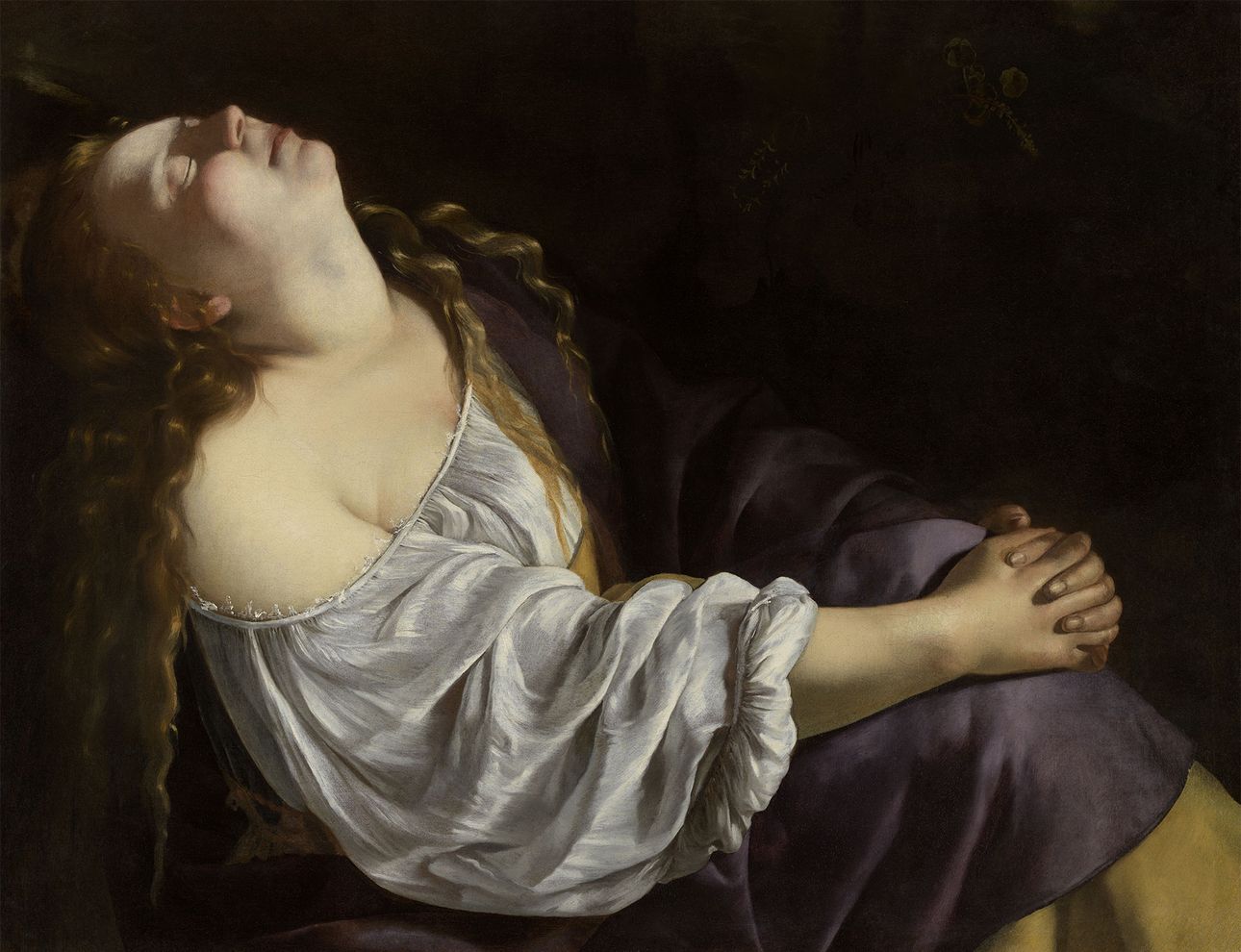 The saints are depicted at a moment that is exclusive to themselves: they are face to face with the divine. The Baroque view was that we humans will have to wait for the beyond to experience this situation.
We can, however, join these moments by viewing the works of art. Ecstatic enjoyment and rapture are popular themes for Baroque images.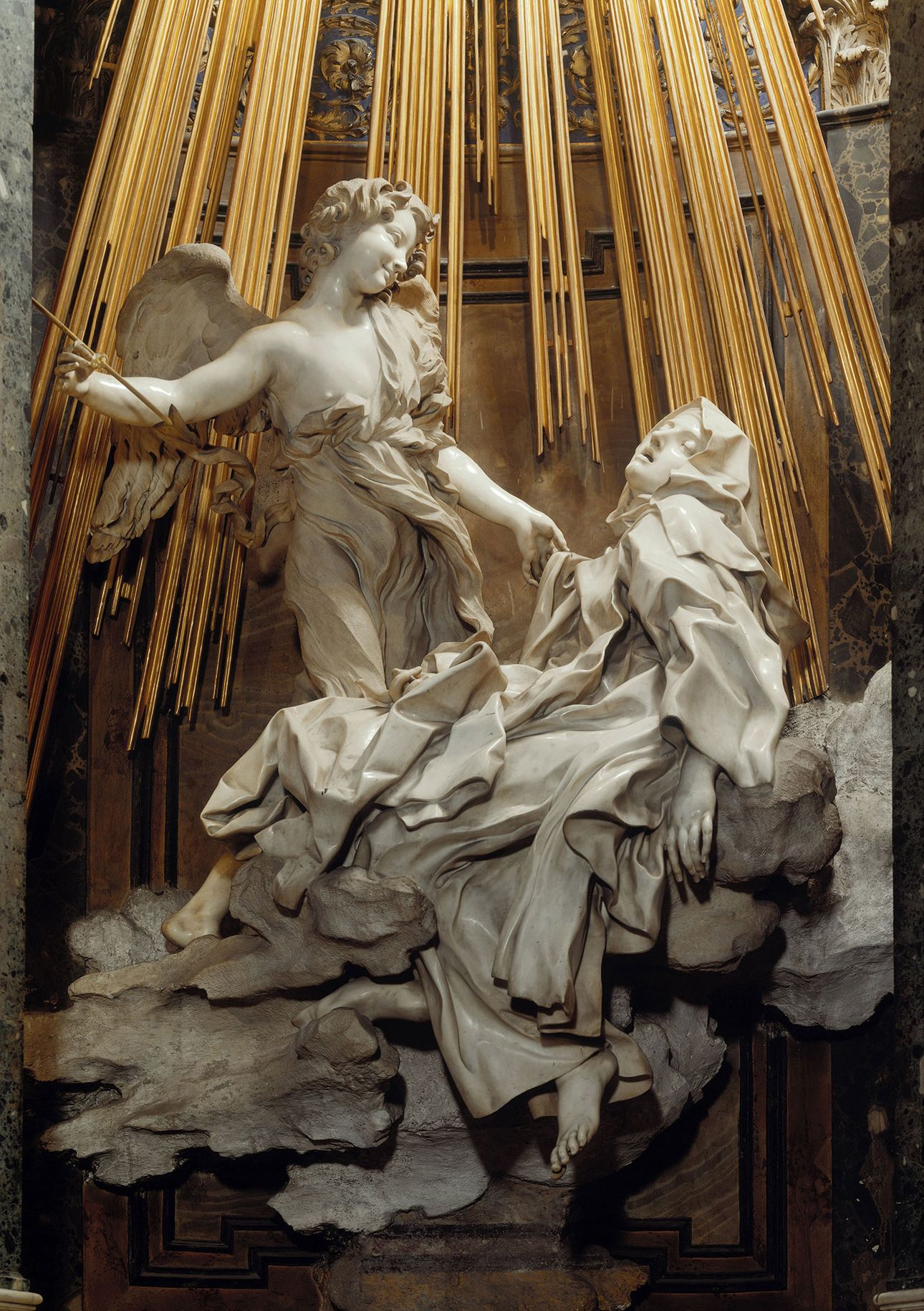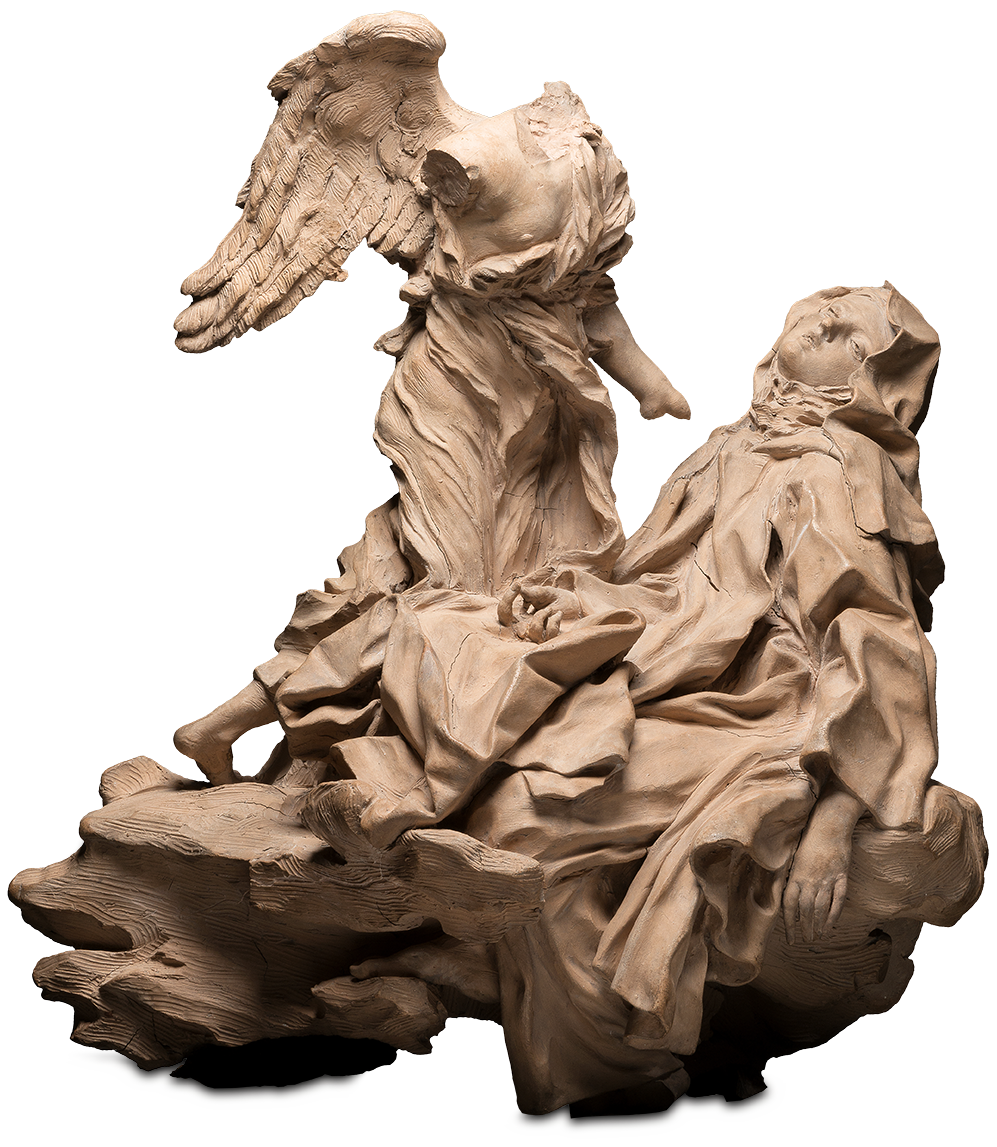 There is a very well known example for this trend in the Cornaro chapel in Rome: Bernini staged the Ecstasy of Saint Teresa of Avila like a theatre scene.
4
Gian Lorenzo Bernini
(Naples 1598–1680 Rome)
The Ecstasy of St Teresa of Ávila
Rome, 1647
Terracotta, H. 47 cm
St Petersburg, The State Hermitage Museum, inv. no. 619
The question of seeing and not-seeing also entered the arts: which of the many figures in Caravaggio's Madonna of the Rosary are actually seeing the Madonna and the Christ Child?
5
Michelangelo Merisi da Caravaggio
(Milan 1571–1610 Porto Ercole)
Madonna of the Rosary
c. 1601/03
Canvas, 364,5 × 249,5 cm
Vienna, Kunsthistorisches Museum,
Inv. no. 147
The figural depiction of ecstasy and vision as divine experiences was a special challenge for the artists. Spiritual movement had to be visualised. That is naturally a difficult task. Caravaggio and his successors met the challenge head-on: their particularly lively and emotional depiction moves onlookers until this day.